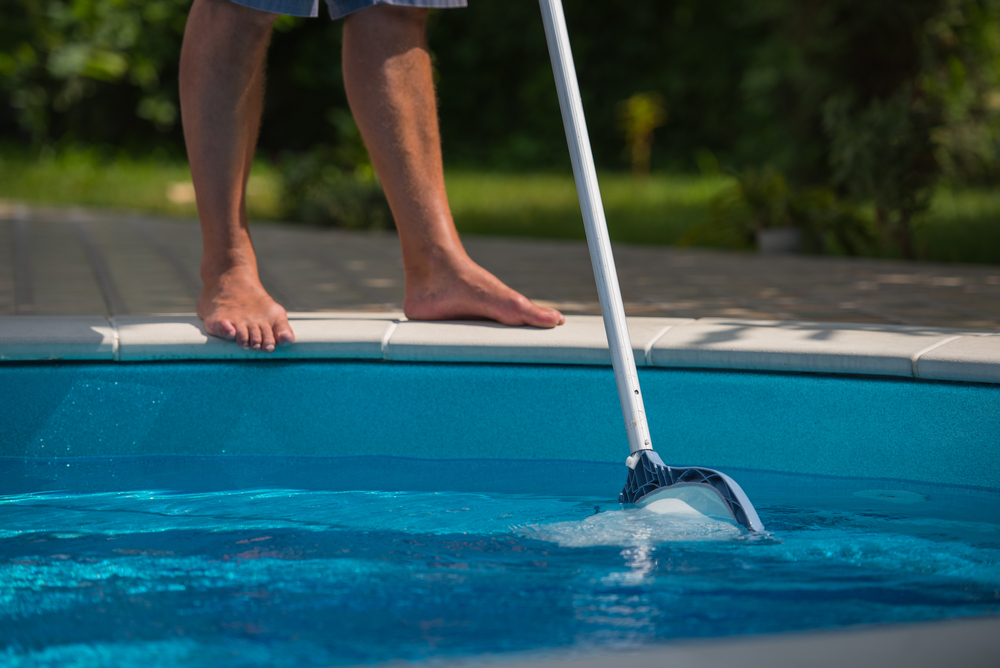 Whether you've had your pool for years or you just partnered with a professional team, like the one at Spartan Pool & Patio, to build the custom pool of your dreams, protecting that investment is very important. There are plenty of things you can do to increase the longevity of your custom pool, such as scheduled maintenance.
But another way to keep your pool going strong is making sure you have the most essential pool products at home. If you're not sure what those are, we're here to help. These are our top five most important products. Spoiler alert: number five is a little bit better than an actual, physical "product." You can pick up each of these items and more on Spartan Pool & Patio's new eCommerce site. We offer curbside pickup and free, local delivery!
1. Battery-Powered Pool Vacuum
A pool vacuum, in general, is absolutely crucial. All kinds of debris falls into the pool, from general dirt and grime to bigger and even ickier things like leaves and bugs. Taking the time to vacuum once a week is huge, especially since the months when pools are most often used are also the ones in which plants and animals are most active.
Picking up a battery-powered pool vacuum, instead of a traditional one, can save you a ton of time. With a regular pool vacuum, you have to get out multiple parts – like the pole, vacuum head, and hose – just to clean the pool. With a battery-powered vacuum, you're much more mobile, meaning you can even spot-clean before hopping in.
2. Quality Water Testing Kit
If you decide to save a few bucks by choosing a non-battery powered vacuum, we completely understand. However, a quality water testing kit is one thing you don't want to skimp on. A cheap water testing kit could give you inaccurate results, leading to the wrong number of chemicals in your pool. The absolute last thing you want when it comes to your pool water is for it to be unsafe to swim in.
3. Old Reliable: A Brush and Net
When you think of someone cleaning a pool, it's pretty likely that you're imagining someone standing on the edge, holding a long pole with a net on the end. It's the most reliable and consistent tool for cleaning out unwanted debris that's too big for the vacuum, such as stones or branches.
Meanwhile, a brush is vital to keep the water and the walls of your pool sparkling clean. Nothing is more irritating than trying to clean your pool with a frayed brush or a torn net. Make sure you're ready for the season by checking your supplies and making sure you don't need a new set.
4. Pool Floats and Toys
You might not have been expecting us to add floats and toys to a list of essential products, but even if your pool exists solely for relaxation and not jumping, splashing, and playing, you'll get a lot more use out of your pool with a quality float.
If you've got children (or if you don't, no judgment), pool toys are a must. Diving toys, rubber floaties, and pool noodles are all fun ways to use your pool. Plus, for any younger children afraid of swimming, toys can help encourage them and show them that, with an appropriate amount of respect, the pool is an awesome place to play.
5. A Trusted Pool Pro
We told you; the last product isn't a product at all. It's a person, or rather, a team of people. Even if you choose not to sign up for routine maintenance, knowing that you've got a local pool company you can count on, in any event, is a crucial aspect of owning a pool. If something goes wrong or something is simply concerning you, it gives you peace of mind to know you can call someone who will be there to help.
We don't mean to brag, but Spartan Pool & Patio prides itself on being exactly the type of pool company you'd want in your corner. We've got the tools, knowledge, and expertise to make sure every element of your pool and your patio are exactly how you want them. Contact us today to learn what sets us apart.