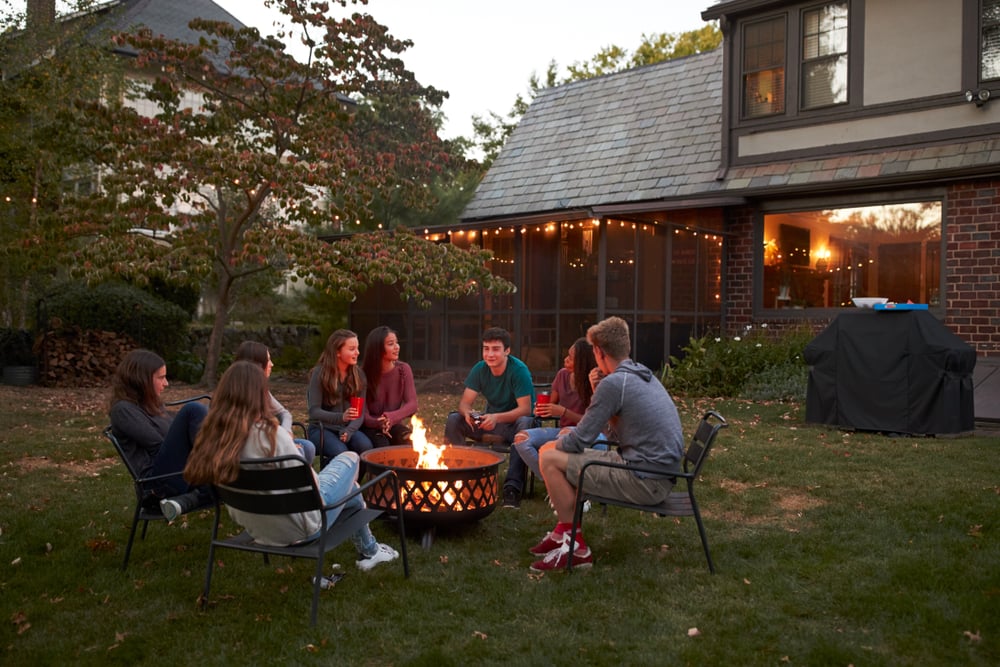 Well, you've closed the pool and/or prepared it for winter (with some help from our blog posts, of course), but now the backyard feels like a ghost town and you miss spending time with friends and family outside. That's where a custom fire pit comes in.
A custom fire pit is the perfect element to add to your backyard, allowing you and your loved ones to cozy up by the fire and spend some quality time together under the stars. If you're considering a custom fire pit but feel overwhelmed or hesitant about the choices, you've come to the right place. We're here to help you understand the varieties of fire pits, along with their various pros and cons, so you can make the best decision for you.
Built-In or Portable
The first choice you'll need to make is whether you want a portable fire pit or a built-in one. Portable doesn't mean you ever actually move it or bring it somewhere, it simply means it's not installed into the ground or built in a specific spot.
A built-in fire pit is a larger commitment, but if you're looking for something long-term that is often easier to operate, it's a great solution. Once you've decided between these two options, it's time to choose a fuel for the flames.
Wood Burning
The most obvious way to build a fire is by using wood logs, and if this is your style, you can't go wrong. With a wood-burning fire pit, you get full control over the heat, duration, and the size of the fire. Plus, if you're a traditionalist who likes to do things yourself, it's a great option, as you will be responsible for building the fire.
The cons of a wood-burning fire are nothing major, but it does mean that you will have to take the time to actually get a fire started every single time you're ready to use it, which is mostly not a problem, but when someone wants a fire spur-of-the-moment, they have to be patient as someone gets it started.
Propane Fire Pits
For a speedier fire, propane fire pits are not a bad call, and propane fuel is one of the most popular options for portable fire pits, since the tanks are relatively easy to move. For anyone who loves to grill and enjoys sitting by the fire, you can knock out two purchases at once by picking up some propane.
There are also more expensive options, like a copper bowl fire pit and fire pit table, that use propane. A copper bowl is a durable, long-term option, while a table fire pit allows you to place your drinks around the edge and keep the fire safer from wandering children (or careless adults).
There are a lot of benefits of propane, but there are a few drawbacks as well, namely that you will have to continue purchasing propane, and it could always run out at the wrong time, so it's best to have backup cans.
Natural Gas Fire Pits
For those who want to install a high quality, beautiful fire pit and never think about the variables that it takes to get it started and running, a natural gas fire pit is the way to go. While they are more expensive than the previously mentioned pits, they are by far the best when it comes to longevity, comfort, and convenience.
Since it's hooked up directly to your home's gas line, a natural gas fire pit turns on at the flick of a switch and provides a ton of control over the heat of the flames. Unlike propane and wood pits, you'll never have to recharge or refuel the fire pit.
Like the other options, these are available in copper bowls and tabletops, but they are also versatile and can be designed to your exact specifications. Depending on the location, it can be costly to run your gas line all the way to the fire pit, but it's a one-time cost, so once it's in, you don't have to worry about it again, because natural gas fire pits are permanent.
Learn More Today
To find out what kind of custom fire pit would work best for your backyard or to talk to an expert about making it happen, contact us today. We'd love to discuss your backyard needs together. And be sure to download our free guide to choosing a pool contractor for you!