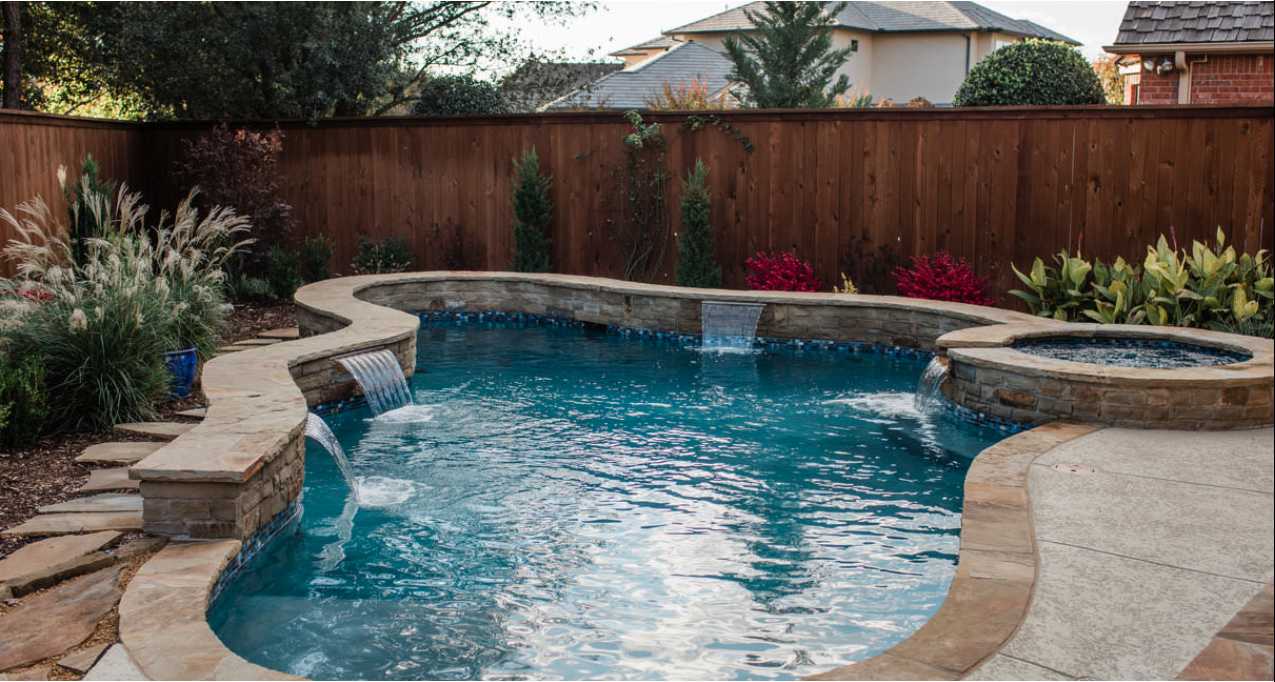 Even the most high-quality concrete pools eventually wear down in one way or another. We'd love to tell you it's avoidable, but it's a natural part of pool ownership, as years of being in contact with water break down the plaster surface of your pool. While you can prolong your pool's life with things like scheduled maintenance with your trusted pool partner, at some point you'll likely need to think about remodeling in some way or another.
A pool remodel doesn't mean destroying and replacing every single element of your old pool, as your pool may not need that. It means assessing the situation then creating a plan of action to replace what needs to be remodeled. Below, we'll discuss how to tell if it's time to think about remodeling, as well as how long it takes and what goes into the process.
Don't need a remodel right now but need supplies? We're here for you. Get your pool supplies, toys, and more on Spartan Pool & Patio's new eCommerce site. We offer curbside pickup and free, local delivery!
When is it Time to Remodel?
First, let's discuss the various situations in which you might start to think about remodeling your pool, from concrete breaking down to tiles falling off and even a simple desire to change things up.
Plaster
After 8-10 years, most concrete pools will begin to show signs of needing some sort of repair. You can tell when this occurs because the plaster surface of the pool – normally smooth and without cracks or bumps – becomes rough and porous, creating an uncomfortable experience for swimmers walking or standing in the pool. This can lead to raw, blistered, and even bloody feet after swimming, which means it's probably time to discuss remodeling your concrete pool. Porous plaster also invites algae growth, most commonly green or black.
Tiles
Additionally, tile can begin to start falling off the pool, a tell-tale sign that your pool is in need of some help. The waterline tile coming loose means that water has gotten behind your tiles, and during freezing temperatures, that water expands, pushing the tiles off the sides.
Coping
In case you don't already know, "coping" is the term used to describe the material around your pool's edge, most often a natural stone, brick, or concrete. Coping comes loose just like tile does when water gets under the coping and damages the mortar that connects it to the pool wall.
A New Look
In many cases, customers get their pools remodeled simply because their pools are falling out of style, or maybe they've purchased a new home and like having a pool but don't necessarily like the way their new one looks. Just like remodeling a room in a new house where materials are functional but out of date, remodeling a pool is the same.
How Long Does it Take?
A standard remodeling generally takes between 2-4 weeks to finish. More elaborate jobs, which involve replacing the pool decking and adding water features or even an outdoor kitchen, could end up taking up to two months. However, there are a few factors that could extend the time your remodel takes.
Sometimes, when remodeling an existing structure, more damage is found under the surface, leading to longer repair and replacement time, but normally these "surprises" are not huge problems when it comes to time or money. Some of these issues include broken pool components found after draining the pool, having to chip out or sandblast the entire surface of the pool when the plaster is hollow, and a damaged pool wall, which means having to chip out portions of the wall, as water damage has made it an unstable surface. Typically, these issues add an extra day or so, and less than $2,000 in cost.
Benefits of Your Remodeled Pool
It might seem frustrating to have to remodel your worn down pool, but once it's done, you'll find some benefits of a new, modern pool in your backyard. A remodeled pool is usually much easier to clean and maintain after we have installed a fresh, smooth, plaster surface.
Even better, we can upgrade lighting to LED fixtures which not only last longer, they are also energy efficient and can even change color! During remodeling, you can also add new water features like fountains or waterfalls. Plus, upgraded pool equipment improves the cleanliness of the water and the ease of use. Adding an automation system allows pool owners to operate your pool from an app on your phone, turning your pool into a smart pool.
When Can We Get Started?
The two best times of the year to remodel your pool are the beginning of the year and the end of pool season. If it's summertime and you're considering a remodel, this doesn't mean you should stop thinking about it. While you may not want to remodel it during peak pool season, you can still get in touch with a trusted pool partner to begin the discussion. Then, when the weather cools and everyone gets out of the water, the remodel can begin!
At Spartan Pool and Patio, we pride ourselves on the absolute highest quality of work for our customers. We don't cut corners and we don't settle for second best. If you're considering a remodel for your backyard pool, we'd love to chat with you. Spots for 2020 remodels are already filling up, so contact us today!