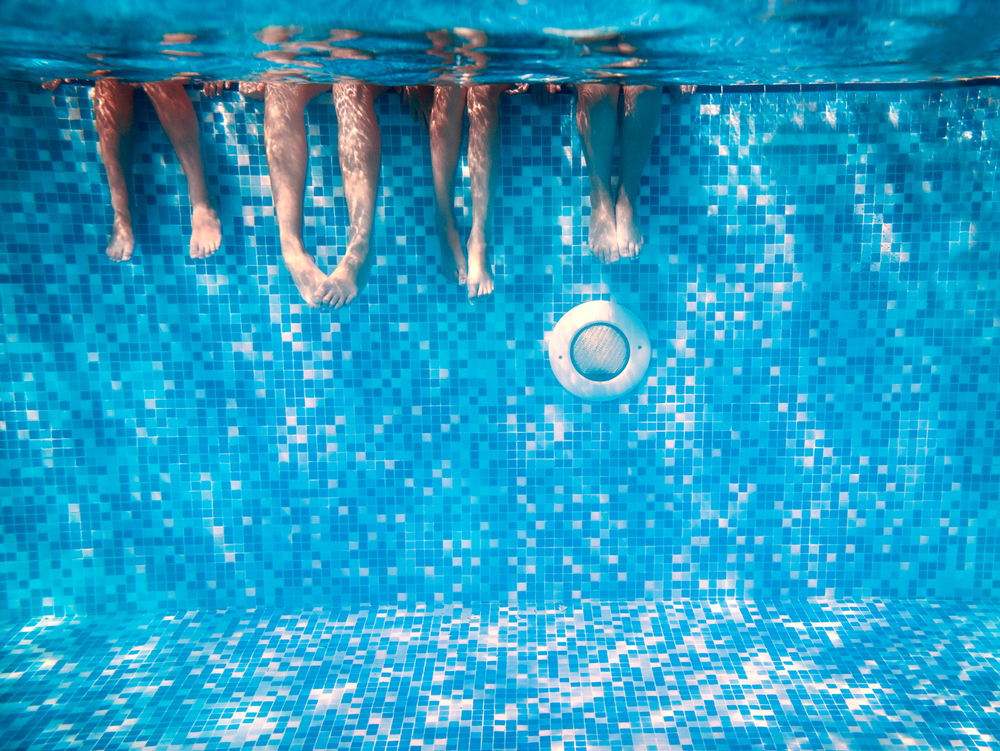 Well, it's almost that time of the year again. The admittedly mild winter temperatures are starting to rise, and it already feels like springtime. That means we're only a few weeks away from being able to get back in the pool.
To make sure your pool is ready for the first swim of the season, you'll need to take a few steps to properly "open" it, which means getting the water ready for both warm weather and swimmers. If this is your first year with your pool, or you'd simply like some help, please give us a call at Spartan Pool & Patio. Our expert team can open your pool safely and efficiently.
Now, let's talk about the eight most important steps to open your pool for summer.
Drain the Cover
Most pool covers are made of either a solid or a mesh material. If you have a mesh safety cover that resembles a trampoline top, you won't have water sitting on top of the cover but you might find dirt, leaves, and debris that needs to be removed first. If you opted for a solid material for your pool cover, You might think the pool cover simply needs to be removed and stored, but before you can do that, you'll need to drain it. This means clearing it of any water sitting on top, as well as getting debris off before opening it up.
Any debris left on the cover when you remove it could potentially fall into the water, creating more work for you in the long run. It's worth it to wipe off the cover or use a cover pump if there's a lot of liquid gathered on the top.
Remove and Store Your Cover
Next, it's time to get that cover off. When you do, it's vital that you fold and store it safely and away from the elements. The fastest way to reduce the life of your cover is by exposing it to elements during the season. Store it in a cool, dry place, where it won't get damaged during the swim season.
Another important tip about your cover: If your cover is damaged or worn down and you know you'll need a new one, make sure not to throw yours away. You can bring it in and then your pool partner will have all the correct dimensions, saving you time and money. This tip will potentially save you hundreds of dollars!
Raise Water Level to Normal
Now that your cover is off and safely put away, it's likely your water level has decreased during the off-season. That means it's time to return it to normal, which is as simple as turning on your hose and placing it in the pool. Make sure to pay attention during this part of the process, as it can be easy to lose focus and end up wasting water, but other than that, it's fairly straightforward.
Reconnect Your Equipment
If you prepared your pool for freezing temperatures this past winter, you'd need to make sure and reattach any hoses or connections you removed or unhooked. This includes your filter, pump, and heater, as well as your pool sweep if you have one. It's important to double-check each one and make sure they're fully connected and sealed before turning any of them back on, as you don't want water running anywhere but the pool.
Remove Any Winter Plugs
One way you might have protected your pool from freezing temperatures is by using winter or winterizing plugs. These plugs are used on your skimmer and return lines – from which you'll also need to remove any antifreeze you filled them with – as well as your pump, filter, heater, and pool cleaners. Once you've removed the winter plugs, simply reinstall each regular drain plug.
Clean Out Debris
You'll want to wait to thoroughly clean and test the water, but if you notice any large debris, now is a good time to go ahead and get that out. You don't want the system to turn on and accidentally suck up the branch of a tree.
Turn Your System On
Now that your plugs have been reinstalled, your water level is up, and your connections are all sealed tight and ready to go, it's time to turn your pool's system back on. This includes your pump, the circulation system, and the filtration system. If you have an air relief valve on your filter, you should also open it up to let air out.
Test and Balance the Water
Finally, once your system has run for a few hours, it's time to test your chemicals. Use your test kit to check the pH, Chlorine, and Alkalinity. Talk to your local pool specialist if you're not sure what the levels should be.

Once your pool is ready to go, it's time to jump in (assuming the weather is warm enough). If you want to be absolutely sure it's safe and clean, you can sign up for weekly pool maintenance with a trusted partner, like Spartan Pool & Patio. Contact us today, or, if you're still wondering what the benefits are in getting maintenance performed on your pool, download our free guide below.