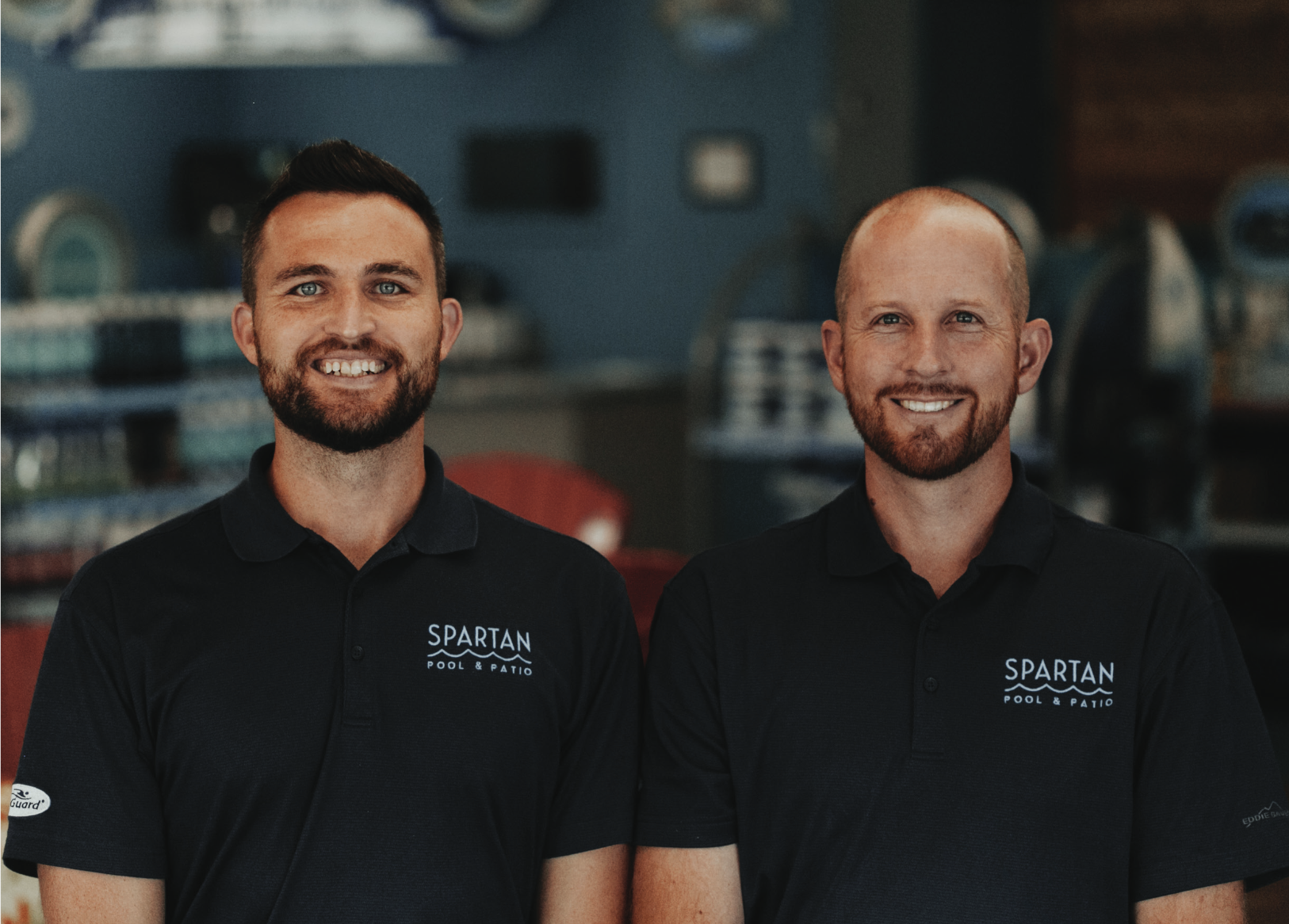 This is an excerpted article from this year's "30 Under 40" list in Pool Pro Magazine.
Sam Stroud and Jordan Demeter both lost a parent to cancer when they were preteens. Then their parents married each other. Already best friends, they also became step brothers. Demeter's grandfather, Don Demeter, owned Pools by Spartan and had been installing vinyl-liner pools since the 1970s.
Stroud and Demeter helped out in their free time, providing labor shoveling and pushing a wheelbarrow. Both say it gave them a pretty unrealistic view of what the pool industry was — hard work, of course, but big breakfasts, free lunches, Sonic slushies and "he'd pay us an exorbitant amount of money," Stroud says. "He just made it so much fun. It seemed like you make a fortune."
As their grandfather neared retirement, in 2008 the two started their own business, Spartan Pools and Ponds, also building vinyl-liner pools. "We always wanted to do something together, and we loved pools," Demeter says. "It's a little different once you get in it a year or two; you realize the free lunches aren't really free."
Which is why they quickly moved into other areas they saw as scalable, adding service, maintenance and eventually moving from vinyl to concrete pools. This year, they purchased Thompson Pool and Patio, a local retail store and service company that had been in operation for more than 40 years, and rebranded as Spartan Pool and Patio. A retail store was a dream of theirs, but one they thought was several years off — and not an option in Norman due to an existing relationship.
"[Norman] is where we wanted to be," Demeter says. "We just had great respect for the Thompson family and didn't want to take a chance of pulling any business away from them."
When Spartan started the service arm of their company, Stroud and Demeter went to Mike Thompson, one of the previous owners in hopes they could make a deal to take on Thompson's overflow customers. The company not only gave them customers, but also equipment and much-needed advice. Though both companies did service, Thompson would refer customers to Spartan for construction, and Spartan sent customers to Thompson for chemicals.
When they signed the paperwork, Spartan more than doubled in size going from around 12 employees to almost 30. Blending the two companies has gone better than either thought possible. The inherited Thompson employees bring knowledge and experience, and have fully embraced the open-book management and profit-sharing that Stroud and Demeter have implemented.
"We have amazing people," Stroud says. "Jordan and I know a bit about this and about that, but there are a lot of people who work here who know a whole lot more about what they do."The two are implementing programs to help employees with personal and professional development, and training them to think like business owners with the hopes of moving some of them into leadership and even ownership positions as the company grows.
For now, the two are focused on continuing dual legacies. "So many people in this area associate Spartan with Don Demeter, my grandpa," Demeter says, "and now we feel that [responsibility] of carrying on the Thompson name as well."